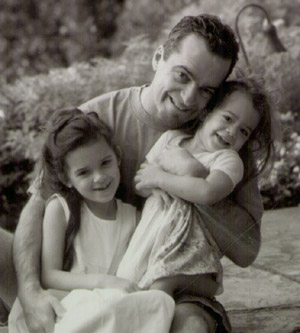 Born
in Chicago in 1958,
Jon Conrad earned a degree in illustration from
the Art Center College of Design in 1982. Three years later,
after working as a graphic designer and creative director, he opened
his own illustration studio in Southern California. Drawing and painting dominated
Conrad's early commercial assignments. His more recent work, including examples published on
this website, demonstrates both his facility for mixed media collage, as well as his fluent command
of digital technology. Regardless of the style, tool, or technique Conrad's approach to editorial
and advertising illustration remains constant --clear communication of his client's message. His
collaborative efforts in visual problem solving have served the concerns of a wide range of
clients including Anheuser-Busch, AT&T, Fortune, Business Week, MACWORLD,
The New York Times, The Los Angeles Times, The Washington Post,
Tennis Magazine, McGraw Hill Publishing, Reader's Digest, and
U.S. News & World Report. His agency affiliations include
McCann Erickson,Landor Associates,
Young and Rubicam,
DDB Needham,and
Chiat Day.